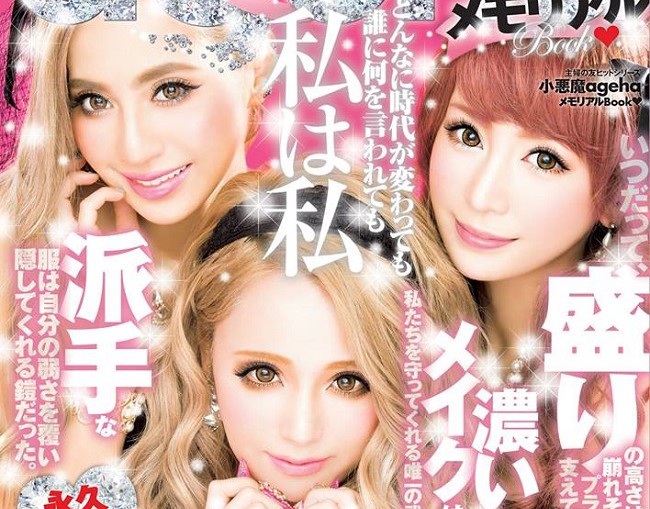 Fashion is all about knowledge. What you know about brands, fashion, scene people, and current styles (among a lot of other things) in the Japanese fashion scene is crucial knowledge that helps you slice through the strongest defenses out there. If you can tell a girl about what she's wearing, perhaps with even more authority than she even knows herself, she will open right up to your approach. This is why I'm always telling guys to check out girls' magazines like 小悪魔ageha Wikipedia / Blog and go on ameblo and read, for example Rady designer Shi-chan's blog. Information is power.
Today's fashion article is about Nail Art, so we'll start with the basics to get the uninitiated up to speed. There are a few main kinds of nails
Acrylic – アクリリック or, more commonly スカルプチュア – These are hard nails. If a girl has very long nails, they must be acrylic because gel is too soft. Acrylic nails are more expensive than gel nails, and are hard on the nail and cuticle, and can damage the natural nail. Sculpture nails have things like rhinestones and small plastic art such as roses or fake peals attached to them. These are popular among gyaru and nailists.
Gel – both hard and soft - ジェル – These are attached to the nail, but are nicer on the actual nail than acrylics. They also tend to look a bit more natural. They are the cheapest after manicure/polish, and also the most common.
Manicure / Polish - ポリッシュ - Manicure / polish nails are simply nail polish applied on top of the nail. There isn't any attachment, unlike the other three in this list. These can be done easily at home, or a bit nicer in a salon.
Chip - チップ- these have the same shape as the nail, but are an attachment to the top of the nail. These can also be done at home.
Here is a Japanese nail blog if you want to read up more on the subject (in Japanese).
These are Cheek Nails (チークネイル) and they are in fashion currently. They are a type of gel nails, and differ from other sorts of nails in no particular way other than the coloration, which presumably looks like a blushing cheek. The defining part of the cheek nail is the simple pink-to-white gradation radiating from the middle out. Some iterations have more rhinestones, or alternating nail colors.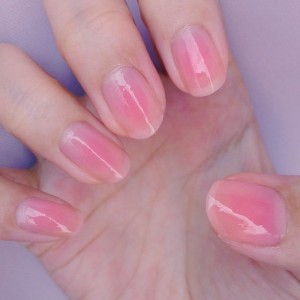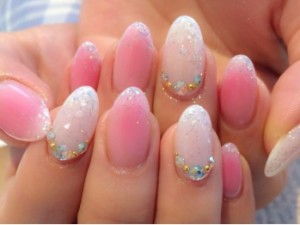 In short, this particular color pallet (light, fleshy pink) and gradation are indicative of cheek nails. Why they made this in particular a "style" and gave it a name, who knows. Such is fashion.
So there it is, short and sweet. Simply knowing about fashion and the names of nails, designers, how much these things cost, and more can take a icy cold set and blow it wide open! Girls will be surprised and happy that you know about their world and choices. Remember, if they're spending close to 10,000 yen a month on these, they must be pretty important to them! Simple, easy. Knowledge is power. Get more. Use it.